Big congratulations to Wab Kinew for winning the Kobo Emerging Writer Prize
in the Nonfiction category for his memoir, The Reason You Walk!
This is the second annual Emerging Writer Prize and Kobo announced the winners on June 21, 2016. The prizes are awarded to the best debut books of the year in literary fiction, romance and nonfiction categories. A winning book in each category was chosen by established and respected Canadian authors, giving the debut writers an impressive vote of confidence from those at the top of their field.
Camilla Gibb, the judge for the Nonfiction category, said this of Kinew's memoir:
"Wab Kine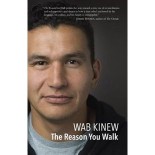 w's story is a deeply moving memoir about the possibility of forgiveness and healing within a family, a community and a country coming to terms with the damaging legacy of the residential school system.  The son of an Anishinaabe chief and a non-native woman, Kinew moves within two worlds, as did his father, both seeking to reconcile conflicting parts of selves shaped by different cultural forces.  Wab Kinew's book is a gift to this country."