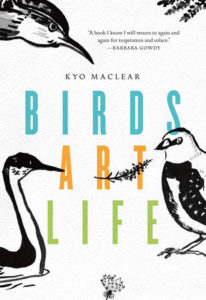 Kyo Maclear's memoir Birds, Art, Life is the winner of the 2017 Nautilus Award in the newly created category of Lyrical Prose.
Now in its 20th year, this unique book award program honors, awards and promotes print books that inspire and connect our lives as individuals, communities, and global citizens.
A #1 national bestseller, Birds, Art, Life, follows two artists on a yearlong adventure that is at once a meditation on the nature of creativity and a quest for a good and meaningful life.