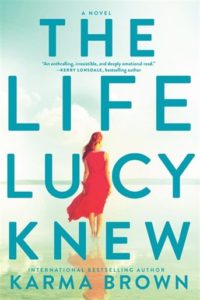 Karma Brown's The Life Lucy Knew received a 5/5 rating from The Girly Book Club!
Reviewer Sarah Doherty remarked, "The character that Brown created in Lucy Sparks was so complex and relatable… I even caught myself thinking 'What if it were me, what if my memories are all false, too?!'"
After hitting her head, Lucy Sparks awakens in the hospital only to discover that the happily-ever-after she remembers in vivid detail—right down to the dress she wore to her wedding—is only one example of what her doctors call a false memory: recollections her mind made up to fill in the blanks from the coma. When the life Lucy believes she had slams against the reality she's been living for the past four years, she must make a difficult choice about which life she wants to lead, and who she really is.