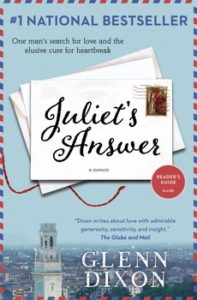 Glenn Dixon's best-selling memoir, Juliet's Answer: One Man's Search for Love and the Elusive Cure for Heartbreak, has been shortlisted for the William Saroyan International Prize for Writing in the category of non-fiction.
Spurned by love, Dixon travels to Verona, Italy, to become a scribe of Juliet, Shakespeare's fictional character, all in an attempt to understand his heartbreak. Once there, he volunteers to answer the thousands of letters that arrive addressed to Juliet, letters sent from lovelorn people all over the world who long to understand the mysteries of the human heart. The result is an enthralling tale of modern-day love steeped in the romantic traditions of eras past.
The awards are intended to encourage new or emerging writers and honor the Saroyan literary legacy of originality, vitality and stylistic innovation. The prize also engages nearly 200 Stanford alumni who participate as readers and judges.Winners and finalists will be announced this summer.