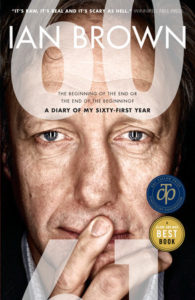 Wonderful news for Ian Brown, whose memoir Sixty was shortlisted for the Hilary Weston Writers' Trust Prize for Nonfiction. Author of the multiple award-winning book The Boy in the Moon, Brown documents and examines what sixty means psychically, intellectually, and psychologically.
Finalists were selected by a three-member jury composed of author and journalist Carolyn Abraham, journalism professor and author Stephen Kimber, and nonfiction writer and folklorist Emily Urquhart. In total, 95 titles were submitted by 50 publishers for consideration for the 2016 prize.
The Hilary Weston Writers' Trust Prize for Nonfiction is awarded for literary excellence in the category of nonfiction. Finalist works will, in the opinion of the jury, demonstrate a distinctive voice, as well as a persuasive and compelling command of tone, narrative, style, and technique. This award succeeds the Writers' Trust Nonfiction Prize, which was established in 1997.