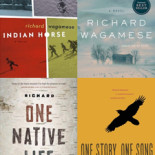 Please join us in congratulating Richard Wagamese on being this year's recipient of the Writer's Trust Matt Cohen Award: In Celebration of a Writing Life. The Award, which recognizes a lifetime of distinguished work by a Canadian writer, is a resounding acknowledgement of Richard's dedication to and evolving mastery of his craft over thirty years.
Matt Cohen Selection Committee Citation:
Richard Wagamese is a member of the Wabaseemoong First Nation in northwestern Ontario. He was born near Minaki, Ontario, in 1955, and at the age of five was taken from his family by the Children's Aid Society – an experience he describes as "baby-snatching" in his first novel, Keeper'n Me, published in 1994. When Richard ran away from his abusive adoptive home, becoming a street child, he became a reader and hence a writer by going into the St. Catharine's public library. He began his stellar writing career as a columnist for the Calgary Herald – where he became the first Native Canadian to win a National Newspaper Award. Richard has received numerous awards for his writing; he won the Alberta Writers Guild Best Novel Award for Keeper'n Me; the George Ryga Award for Social Awareness in Literature, for One Story, One Song; the Canadian Authors Association Award for Fiction, for Dream Wheels; and Canada Reads' People's Choice Poll for Indian Horse in 2012. He has also been awarded two Honorary Doctor of Letters degrees and in 2013 the Molson Prize. Over a career spanning more than 30 years and numerous honours, Richard Wagamese has become a vital voice in Canadian letters.
Banff Awards:
Richard Wagamese has also been awarded the Banff Mountain Fiction and Poetry Prize, as well as the Grand Prize (The Phyllis and Don Mundy Award) at the Banff Mountain Book Competition Awards for his latest novel, MEDICINE WALK.
"Medicine Walk tells an old kind of tale: a pilgrimage to a special place, powerful stories told along the way, the stitching-up of a ravelled relationship between father and son. In this novel the story is distinctively Canadian, yet relevant to so many mountain cultures, as it speaks of a first nations family – diverted and displaced by recent history – who must re-create a deep connection with one another and with home. That home in the Western Canadian mountains is a central character here. Richard Wagamese gives the rivers, the hillsides, the ridges and the valleys a powerful voice in his beautiful, tragic and hopeful story."
– Harry Vandervlist, 2015 Book Jury