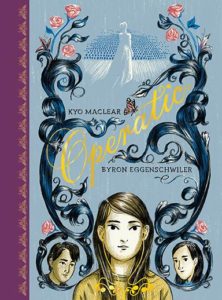 Operatic, from author Kyo Maclear and illustrator Byron Eggenschwiler has received starred reviews from Booklist, Quill & Quire, and School Library Journal.
"Opera is an unusual but pitch-perfect match for that swell of overwhelming feeling, and Maclear and Eggenschwiler fold it into the story perfectly. A poignant, pithy, and arrestingly illustrated story." —Booklist
"Operatic offers a deft look at adolescence, rich but subtle, accessible but beautifully complex." —Quill & Quire
"Brimming with raw emotion, music references, and gorgeous art, this memorable and relatable graphic novel will linger with ­readers." –School Library Journal
Operatic publishers April 1, 2019 with Groundwood Books.