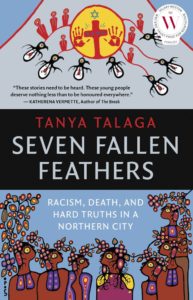 A warm congratulations to Tanya Talaga whose book Seven Fallen Feathers won the Indigenous Literature Award, part of the First Nation Communities Read 2018-2019 program, in the young adult/adult category.
Using a sweeping narrative focusing on the lives of seven Indigenous high school students who died in Thunder Bay, Ontario, Talaga delves into the history of this small northern city that has come to manifest Canada's long struggle with human rights violations against Indigenous communities.
First Nations Communities Read is an annual reading program launched in 2003 by the First Nations public library community in Ontario. Selected titles are chosen with the aim to encourage family literacy, intergenerational storytelling, and intergenerational information sharing, and are written and/or illustrated by, or otherwise involve the participation of a First Nation, Métis, or Inuit creator.