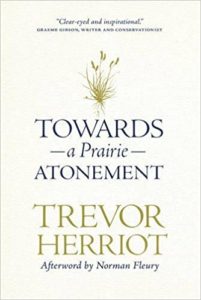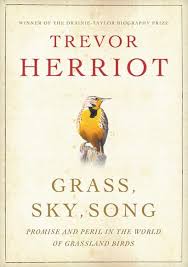 Westwood Creative Artists is pleased to congratulate Trevor Herriot, winner of the 2017 Cheryl and Henry Kloppenburg Award for Literary Excellence for his body of work. The award-winning author and naturalist has published five books, including Globe and Mail bestseller Grass, Sky Song, Governor General's Award shortlisted Jacob's Wound and most recently, Towards a Prairie Atonement.
The jury said, "Trevor Herriot takes as his subject matter the land we live on and live off, that which our modern society, blinded by colonial arrogance and corporate greed, has so sought to dominate and push into the background, to our loss, personal and collective. With wisdom and grace, with a head for facts but a poet's heart, with an attention to scientific detail yet a willingness to soar into the transcendental, with a voice that is personal but has a universal resonance, Herriot tells us that natural history — those birds, that river — is our history, that we cannot escape it, nor should we want to. He seeks to bring us back to a sound relationship with the land, and succeeds in ways that are moving and memorable. In awarding the 2017 Kloppenburg Award to Trevor Herriot, we heartily agree with the judgement of one critic: that he is the pre-eminent prairie naturalist of his generation."
The Cheryl and Henry Kloppenburg Award for Literary Excellence recognizes Saskatchewan writers who have written a substantial body of literary work and had a significant impact on writing in Saskatchewan. The prize consists of an award of $10,000 donated by Cheryl and Henry Kloppenburg and a framed print of a work of art by Saskatchewan artist Dorothy Knowles.